REGIOSTARS 2021: EMOTIONWay makes it to the finals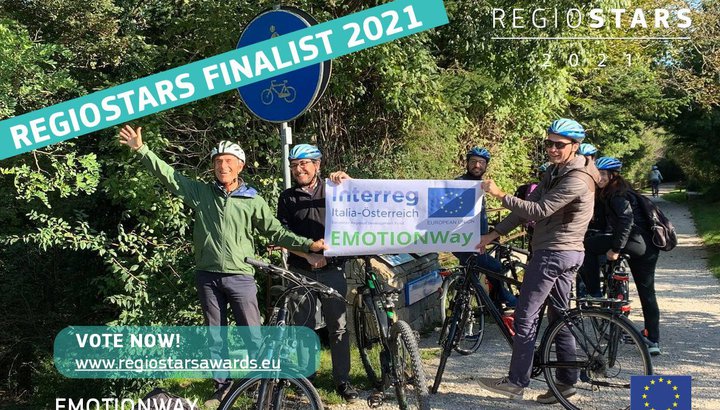 The EMOTIONWay project has been selected among the REGIOSTARS 2021 finalists for the category "TOPIC OF THE YEAR: Enhancing green mobility in the regions: European Year of Rail 2021"
In an ever-"greener" future, the EMOTIONWay project aims to develop cycle-train and cycle-bus intermodality and promote green modes of transport. Thanks to the creation of the Cross-border Cycle Network of the Eastern Alps (ReCAO), the integration of the network of cycle paths and trails with the railway network and local public transport of Friuli-Venezia Giulia, Veneto, Carinthia and the Autonomous Province of Bolzano is strengthened.
The development of the ReCAO has led, in parallel, to an increase in the tourist attractiveness of the territories involved, opening the way to slow tourism.
Thanks to Emotionway we share the richness of a "borderless landscape".
What is REGIOSTARS?
The REGIOSTARS Award are a yearly competition, organised by the European Commission (DG Regio), which aim to award EU-funded projects that demonstrate excellence and new approaches to the development of cohesion policy. Every year, hundreds of projects compete in five categories: Smart Europe, Green Europe, Fair Europe, Urban Europe and Topic of the Year.
The winners of the five categories will be announced during the ceremony to be held on 2 December in Dubrovnik!
Vote for EMOTIONWay in the category "TOPIC OF THE YEAR: Enhancing green mobility in the regions: European Year of Rail 2021" by clicking the heart symbol: https://regiostarsawards.eu/